---
"Shameless Self-Promotion"
---
While watching a video on YouTube one day that chronicled some random boy band's walk down Fairfax Avenue in Los Angeles, my daughter Taylor spotted this store front in the background.

Upon further investigation, it was found to be a merchandise store for Odd Future, which has been described as "an American hip hop collective". Though it is my understanding that the Fairfax store has closed, their website still offers a few items that display Hocus Pocus. From what I can gather they have adopted Hocus Pocus as some sort of a mascot for some reason.
| | | | | |
| --- | --- | --- | --- | --- |
| | | | | |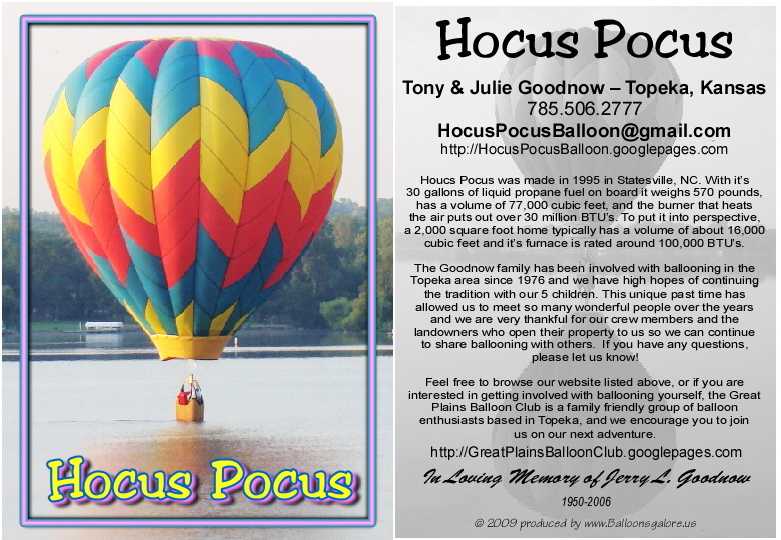 Our trading card is featured on the Balloons Galore site along with several photos throughout the site.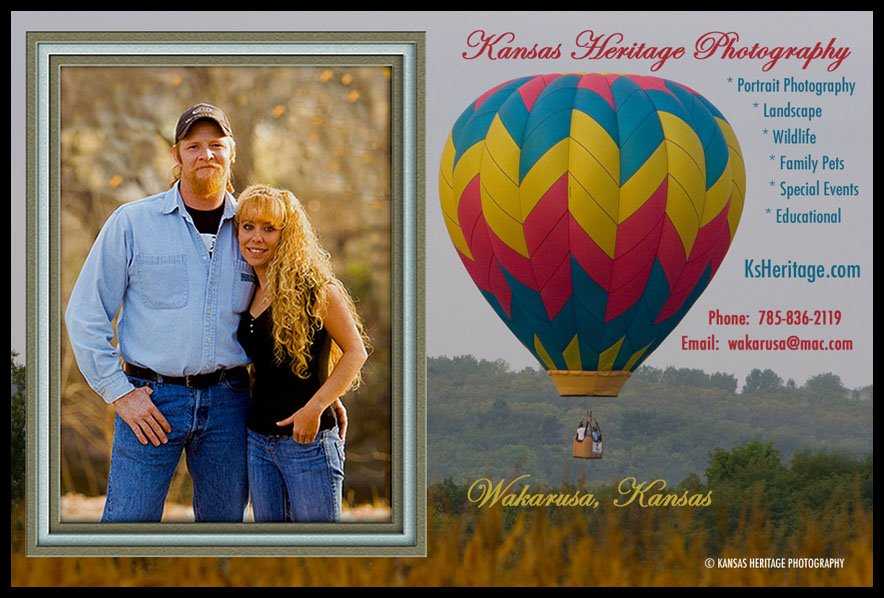 This advertising card for Kansas Heritage Photography was spotted by a crew member Mary Jane King hanging on a bus stop on Kansas Avenue in Downtown Topeka. The couple in the photo on the left are friends of the photographer and the photo of Hocus Pocus was taken near 49th & Burlingame Road on the Saturday morning flight of Huff 'n Puff 2007.
Also, Be sure to check out our page in the GPBC member balloons section.
---
---
We are members of the Great Plains Balloon Club, a group of ballooning enthusiasts who share a passion for the sport and encourage anyone interested in ballooning to follow their dreams and keep the true spirit of ballooning alive and well. We also believe that maintaining an active membership in the Balloon Federation of America, a unified voice representing balloonists across the U.S., is a vital step to keep ballooning as an activity that can be experienced by people from all walks of life.
---
---
A special "Thank You" goes out to all of the landowners across the country who allow balloonists to launch and land on their property. If it wasn't for your hospitality none of this would be possible. We are at the mercy of the winds and consider ourselves lucky to meet so many wonderful people when we drop in uninvited. We hope you have had a pleasant experience and have some photos and special stories of your own to share with your friends and families.